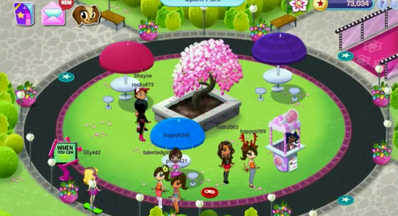 Please do not take the version of this information without permission, thank you. Spark Park (called Spark Central in OLD AGA, later renamed again as Spark Raceway and later renamed as Spark Park) is a park and the second part of Park Square which is a park that is no longer available, this part is still available.
The park was called "Spark Central" in OLD AGA but then was renamed in June 2011 as "Spark City Raceway" (or sometimes called as Spark City Raceway) to promote the opening of "Zoom Factory ". It got renamed again later on as Spark Park which is the current name til this day.
Every holiday or season that comes up, Spark Park is one of the places that changes style/decoration for either a holiday or season.