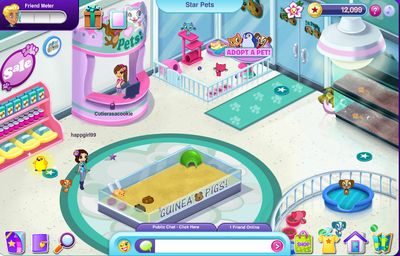 Please do not take the version of this information without permission, thank you. Star Pets is a shop where you can buy your own pet. Currently you can buy a dog, cat, or a penguin. This shop is connected to Curious Creatures , and Fish-E .
You must be a VIP in order to buy a pet, however the "Sierra Brown Dog" is available for non-vips.
You can sometimes also buy rare pets at the Secret Store.
On December 23, 2014, a new category in Star Pets called "Christmas" included a gingerbread man that is labeled as "Ginger" appeared for free. It was removed hours later. On Christmas day (12/25/14), the pet was turned out to be a Christmas gift for users.