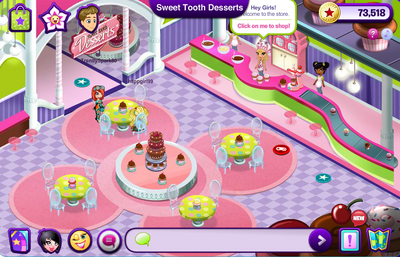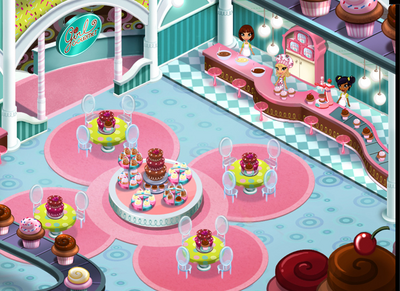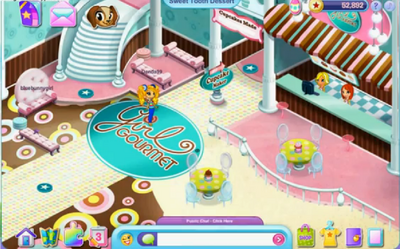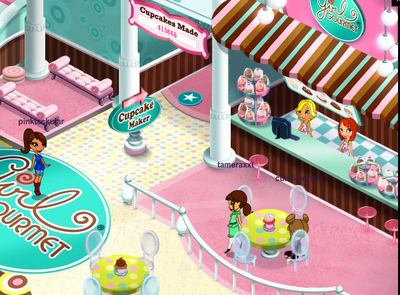 Please do not take this version of the information without permission, thank you. Sweet Tooth Desserts (Originally called Cupcake Maker) is a place (including store) based on sweets. It is connected to the Sugar Lounge, and originally Girl Gourmet as the original main place.
Items Sold There
Edit
(The page for the items talked about are getting worked on) Sweet Tooth Desserts (including Sugar Lounge) sells certain merchandises like hats and also sells furniture which is mostly exclusive to the place.
Sweet Tooth Deserts was actually the "Cupcake Maker" place in OLD AGA when all of the sweets inspired places were based on JAKKS Pacific's "Girls Gourmet" "toy" in real life back in 2009. Sweet Tooth Deserts was actually not the main place back in 2009, instead the photo below saying OLD AGA (Girl Gourmet) was the main from 2009 but got replaced by today's Sweet Tooth. Today, this place and the Sugar Lounge are no longer based on JAKK Pacific's "Girl Gourmet" "toy".
There is a game called "Sweet Tooth Desserts" where you help make the cupcakes and sell them to the customers.
Fun Feature
Edit
A fun feature in Sweet Tooth Desserts is when you click the cupcake stand "thingy" (picture below), a cupcake will come up on top of your username and avatar and in seconds it will be bitten to look like you actually ate it.